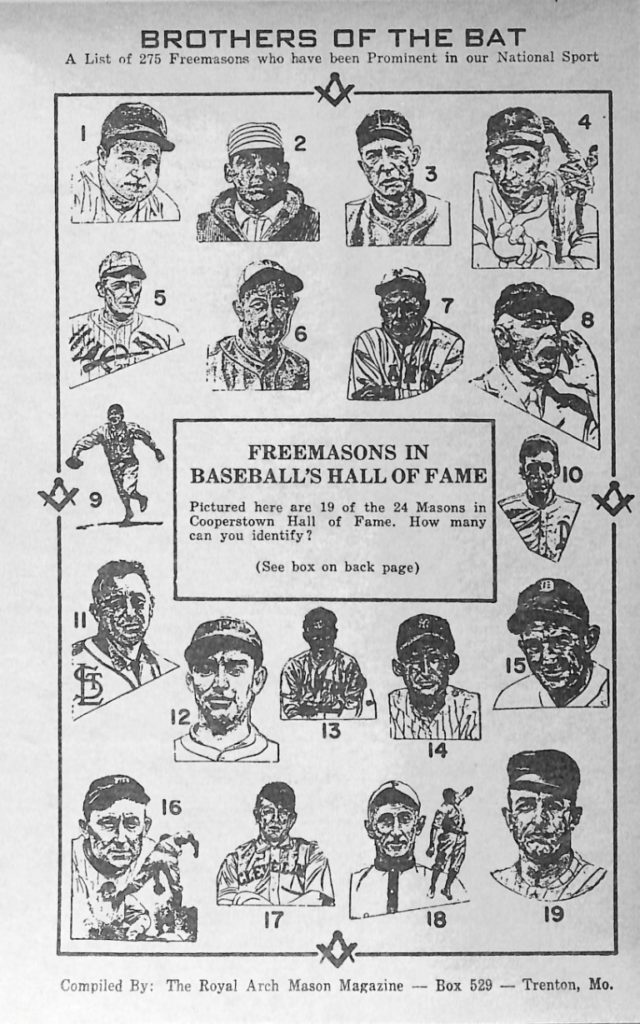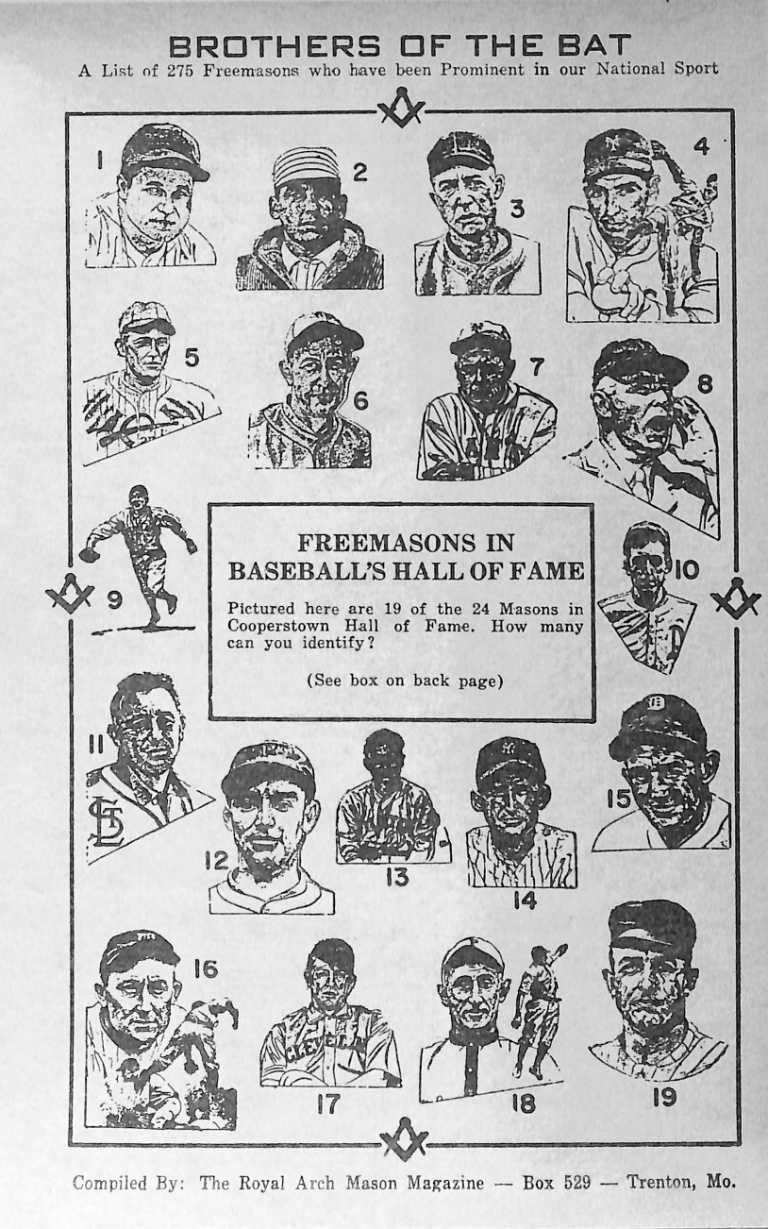 By Joseph Patzner
With the first pitch of Major League Baseball season set to cross the plate in just under three weeks, I began to explore the relationship between Freemasonry and baseball. While the Civil War hero Abner DoubIeday was long recognized as the founder of the "Modern" game of baseball, he was falsely attributed as the "Father of Baseball." Rather, Alexander Joy Cartwright, a member of Le Progress de I'oceanie and Hawaiian Lodge, had developed the game using the rules of the English game of rounders whilst playing pick-up games of "town ball." He soon established the Knickerbocker Baseball Club in 1842. While playing mostly pick-up games with the team throughout the early to mid 1840s in vacant New York City lots, the first official game under Cartwright's rules took place between the Knickerbockers and the New York Nine on June 24, 1846 at Elysian Field in Hoboken, New Jersey.
In addition to learning that a Mason was the founder of our national past-time, I found a number of news clippings and articles highlighting players from the early to mid-20th century that were involved in Freemasonry.  One of the most interesting clippings came from The Masonic World, which had a photograph of Charles Hostetler, Paul Trout, Harold Newhouser, and Robert Swift of Lodge 417* in Michigan, being raised to the degree of Master Mason. Similarly, in 1932, the Masonic Outlook published a story that highlighted members of the New York (Baseball) Giants team who were part of The Craft. When asked why the men joined, the players mentioned that their fathers were also Masons.
(* in our records, the Lodge's name was not specified)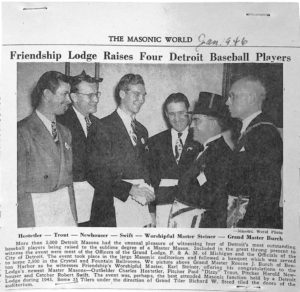 In addition to publishing articles about baseball players involved in Freemasonry, the Grand Lodge of New York F. &A.M. contacted the front offices of multiple teams throughout the league during the 1946 off-season, asking about which players in the league were also Masons. Although numerous responses were sent, replies varied, with most replies noting that, while the information was not made available to them, the Grand Lodge of New York F. &A.M. might be better off contacting the players directly. While it is unclear whether or not the players had been contacted directly, a list was compiled by The Royal Arch Magazine that identified 275 prominent players who were also a part of Freemasonry. On this list, some of the most notable names included Ty Cobb, Cy Young, Honus Wagner, Mickey Cochrane, and Dazzy Vance. While it is unclear whether or not any players joined the brotherhood beyond the mid and early 20th century, the Masons maintained their relationship with the New York baseball clubs, by holding Brotherhood Night in the '70s and '80s to help promote unity throughout the city.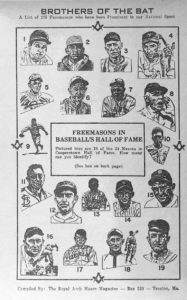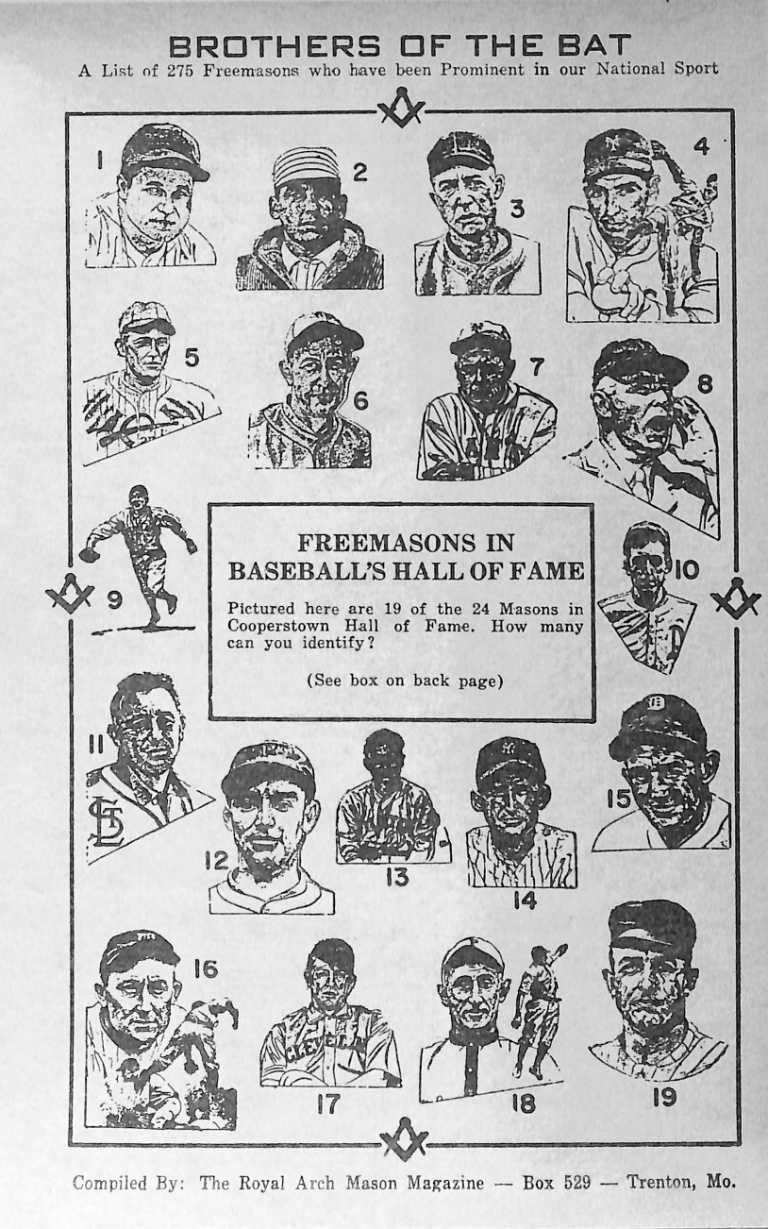 If you are interested in learning more about the relationship between Freemasonry and Baseball, there is currently an exhibit dedicated to the subject at the Chancellor Robert R Livingston Masonic Library & Museum.