The Robert R Livingston Masonic Library is proud to provide a link to the invaluable Masonic documents and texts to further support Masonic research compiled by the,
Below is a letter from the OMDHS  Archivist, R.'.W.'. Gary L. Heinmiller.
---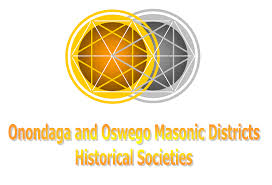 Onondaga Masonic District Historical Society
608 Oswego Street, Liverpool, New York 13090-0095
Founded November 15, 1996
Oswego Masonic District Historical Society
451 Main Street, Phoenix, New York 13135
Founded December 1, 1998
Greetings,
When I first became a Freemason in 1987 it took a while until I found a few books on a shelf in the anteroom. Then I learned of the fine Library that used to exist in the old Syracuse Temple, which was moved as the seed to Utica and Lexington Libraries when the Syracuse Temple closed.
In time I started scouting around for more books for a library, and by 1996 had accumulated enough to propose the Founding of the OMDHS.
For the past 25 years, I have been fortunate enough to accumulate enough to fill two Libraries, under the aegis of the OMDHS and to post numerous files on the OMDHS website.
I am honored to be able to inform you that the files of over 10,000 pages of the OMDHS are now available as a link from the Chancellor Robert R Livingston Library website.
On the website, you will find Tabs for:
History–where among many other things you will find the "Craft Masonry" series which contain the Histories of every Lodge in our Grand Lodge which I have been able to glean from readily available sources, a List of Lodges from 1759 to the Present, Freemasons of NY in the Revolutionary and Civil Wars.
Philosophy & Ritual–where among many other things you will find a List of Early Masonic Documents, a selection of texts of many early Manuscripts, the complete text of the AQC Preston Craft Lectures on Masonry.
Geometry–being the "Basis of Freemasonry," at this Tab is a series of files on the speculative relation of Geometry to the Craft.
What's New–where various updates appear from time to time.
Library –Where maybe found over 500 books on Freemasonry.
Links–where may be found hundreds of Links to items of Masonic interest.
Fraternally yours,
R.'.W.'. Gary L. Heinmiller
Archivist, OMDHS
garylheinmiller@gmail.com