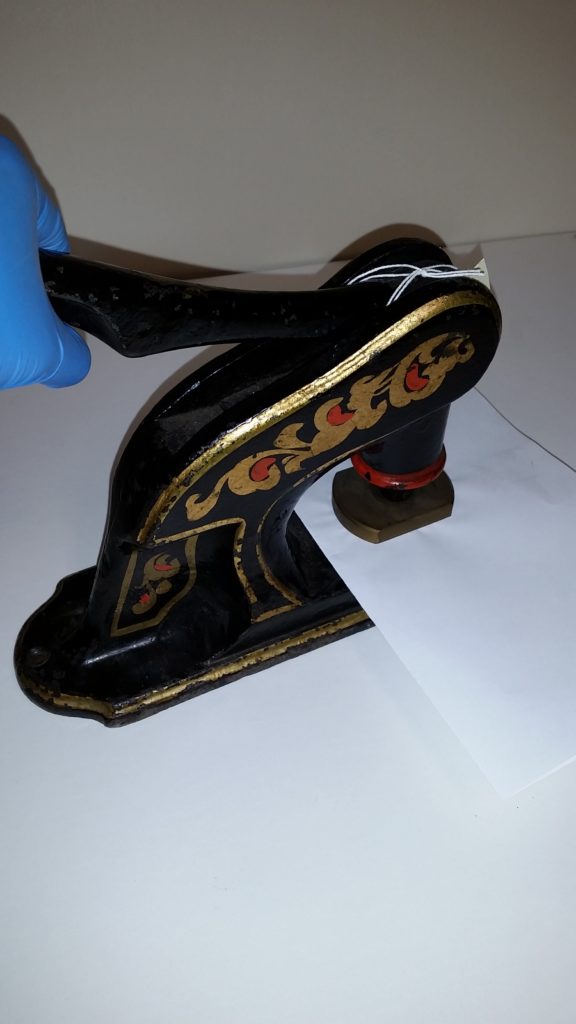 By Jo-Ann Wong
In our archives, our documents from the late 19th century and onward will often have an imprint, also known as a seal impression. These imprints indicate the specific Lodge or Masonic organization that the paper is originating from, and are extremely important in tracing back a Lodge's history and their correspondence with others.
The device that was most commonly used to create these imprints are known as seal presses. Traditionally, these presses would be used to emboss wax seals, but overtime, embossing an imprint became more in fashion. It is believed that this transition from wax to embossing a seal directly onto the paper started around 1782.
In our Museum collection, we have dozens of these seal presses. Particularly, our collection contains many "Lever" seal presses. These were made out of iron, and would often have either fanciful metalwork, such as this one that includes a lion head (which was also known as the Lion Seal Press):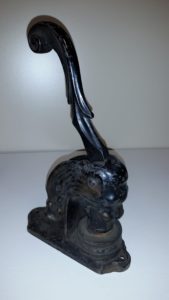 or have designs painted onto it, like this one: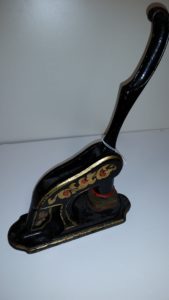 As you can see, the name "lever" comes from the fact that this is how one would operate this device. Taking the lever, you would push down hard to create the impression on the piece of paper that is slid into the device. The harder you pressed down, the more defined the impression would be. These seal presses, because they are made of iron, are heavy, and can range between 3 to 10 lbs each.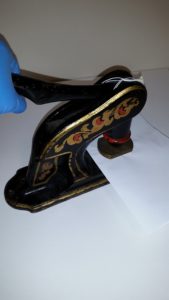 As such, while there are no dates on the seal presses themselves, there are clues throughout that hint at their age. The first clue comes from the imprint itself. For the press that had designs painted onto it, the imprint is this: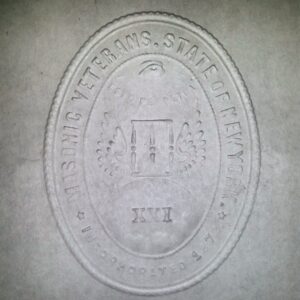 Indicating that it is from the Masonic Veterans, the imprint also notes that it was incorporate in 1872.
Similarly, the press with the lion's head has an imprint that looks like: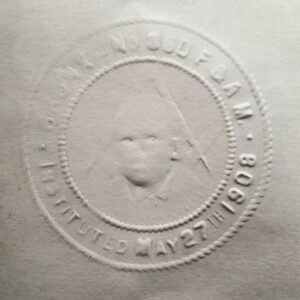 Belonging to a specific lodge, the imprint indicates that this lodge was instituted in 1909.
The other clue for dating these devices is looking at their bases. The press that is from the Masonic Veterans has a flat, smooth bottom, which is indicative of early  to mid-1800s seals. The other press has a large pour hole, which indicates that it is from the  The former is indicative of being made in the early 1900s. As such, with information from the imprint and from the base of the presses, it can be assumed that the Masonic Veterans press was made around 1860-70s, while the other press was made around 1910s.
To see more devices like this one, come visit our Library & Museum!
Sources: