From our archive, we compiled the correspondence letters sent from the White House, written by various Presidents of the United States, many of which were Masons.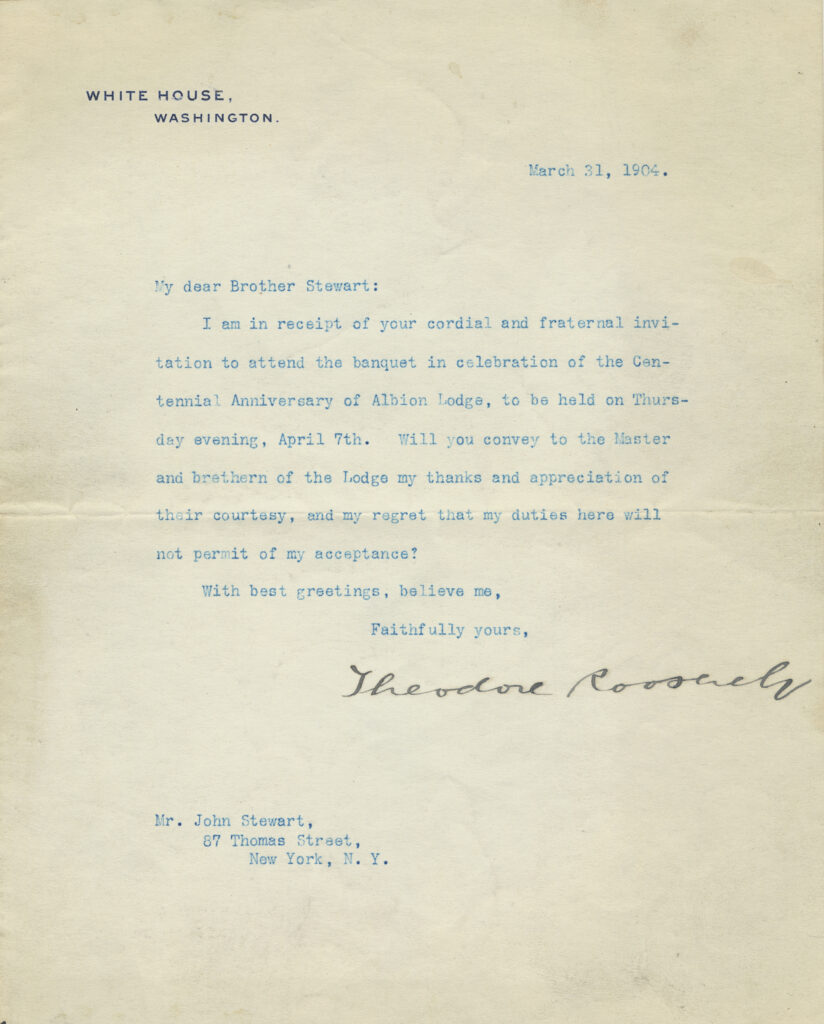 President Theodore Roosevelt (1901-1909)
Albion Lodge (originally no. 31) of New York was warranted in 1804 and MW John Stewart, Past Master of the lodge and Past Grand Master, invited President Theodore Roosevelt to their centennial celebration banquet in 1904.  Regrettably, President Roosevelt wrote back that he appreciated the invitation, but he could not attend the banquet.  President Roosevelt was raised in Matinecock Lodge No. 806, Oyster Bay, New York.
Albion Lodge merged with Naval Lodge No. 69 in 1973 and later merged with St. John's Lodge No. 1 in 1995.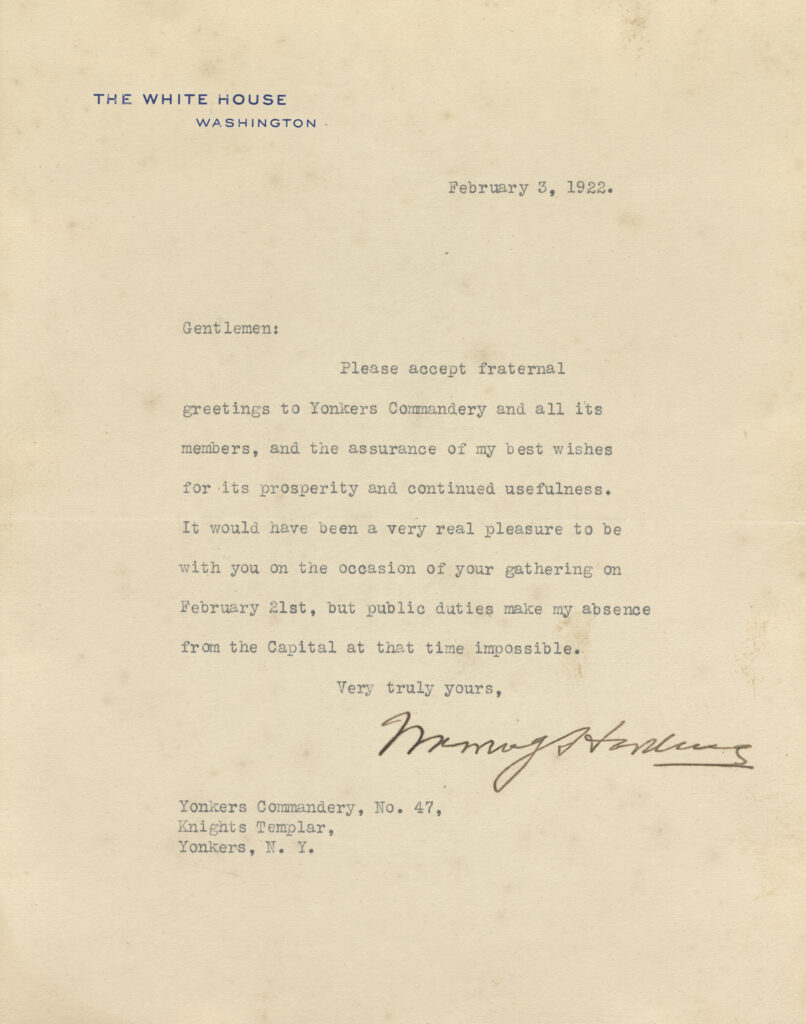 President Warren G. Harding (1921-1923)
President Warren G. Harding was raised one year before his presidency in Marion Lodge No. 70, Ohio. He wrote back to Yonkers Commandery No. 47 regarding the invitation to the Annual Reception which he could not attend, but nonetheless sent his fraternal greetings.  He was also invited by the Grand Commandery of New York to the 108th Annual Conclave at Syracuse in 1921, which he declined as well.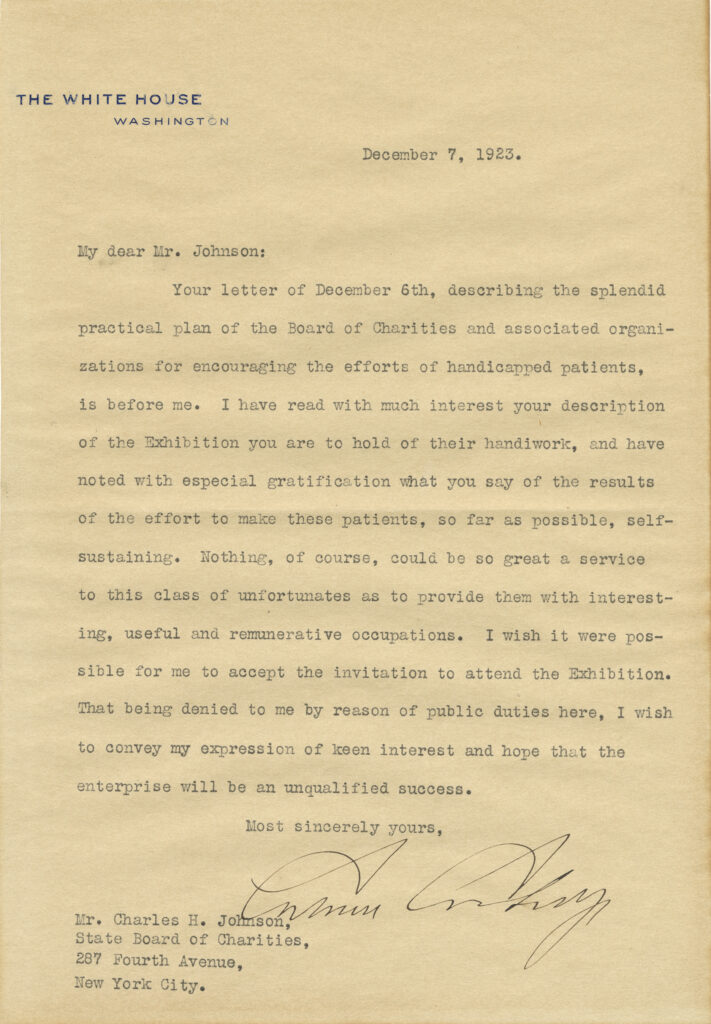 President Calvin Coolidge (1923-1929)
President Calvin Coolidge was never initiated into Freemasonry but he retained a great friendship with the Masons during his presidency.  He was present at the cornerstone laying ceremony of the George Washington Memorial.  MW Charles H. Johnson, the Grand Secretary of the Grand Lodge of New York, was also the Secretary of State of the Board of Charities of New York.  In this correspondence, President Coolidge complimented their charity projects and declined MW Johnson's invitation to the exhibition presumably to display the handicraft of the patients under the care of the State Board of Charities.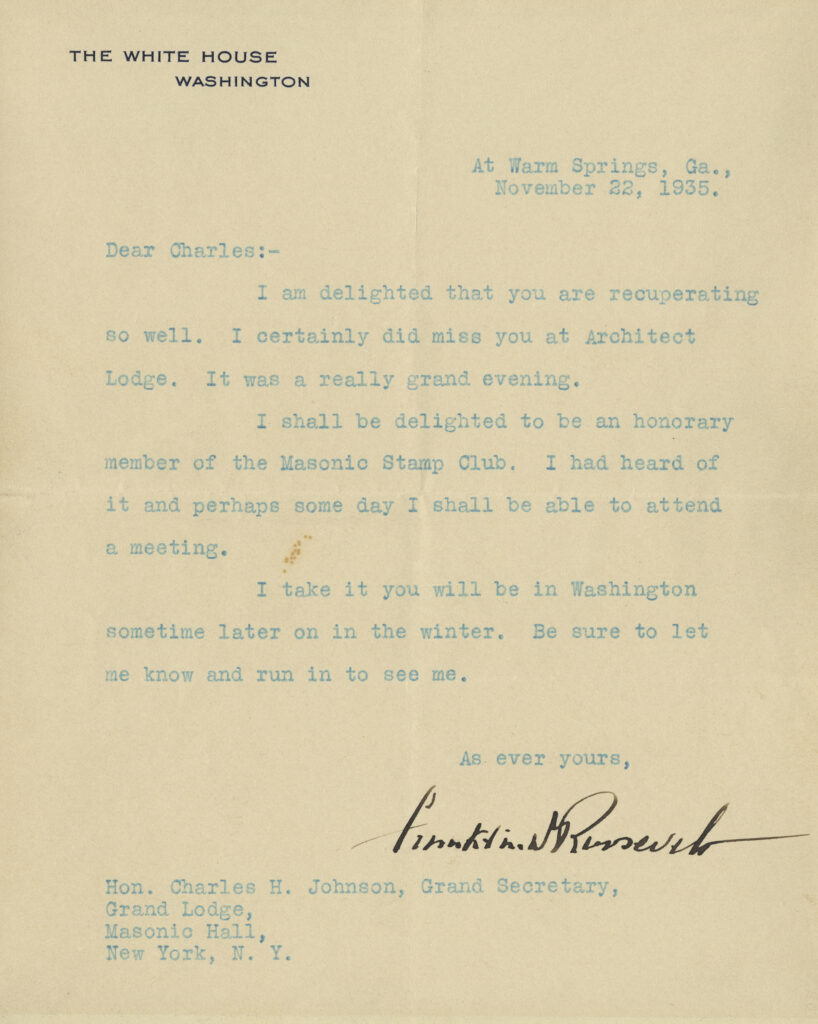 President Franklin D. Roosevelt (1933-1945)
The Masonic Stamp Club of New York was established in 1934 by a group of Masons with a philatelic interest, sponsored by The Grand Lodge of New York Library and Museum.  The club presented President Franklin D. Roosevelt, who was also an avid stamp collector, their Honorary Membership card.  He wrote back a thank you letter to MW Charles H. Johnson, the Grand Secretary, and said he looked forward to meeting him again.
Two weeks before Franklin D. Roosevelt wrote this letter, at an evening meeting of Architect Lodge on November 7, 1934, his two sons, James Roosevelt and Franklin Delano Roosevelt, Jr. were raised as Master Masons.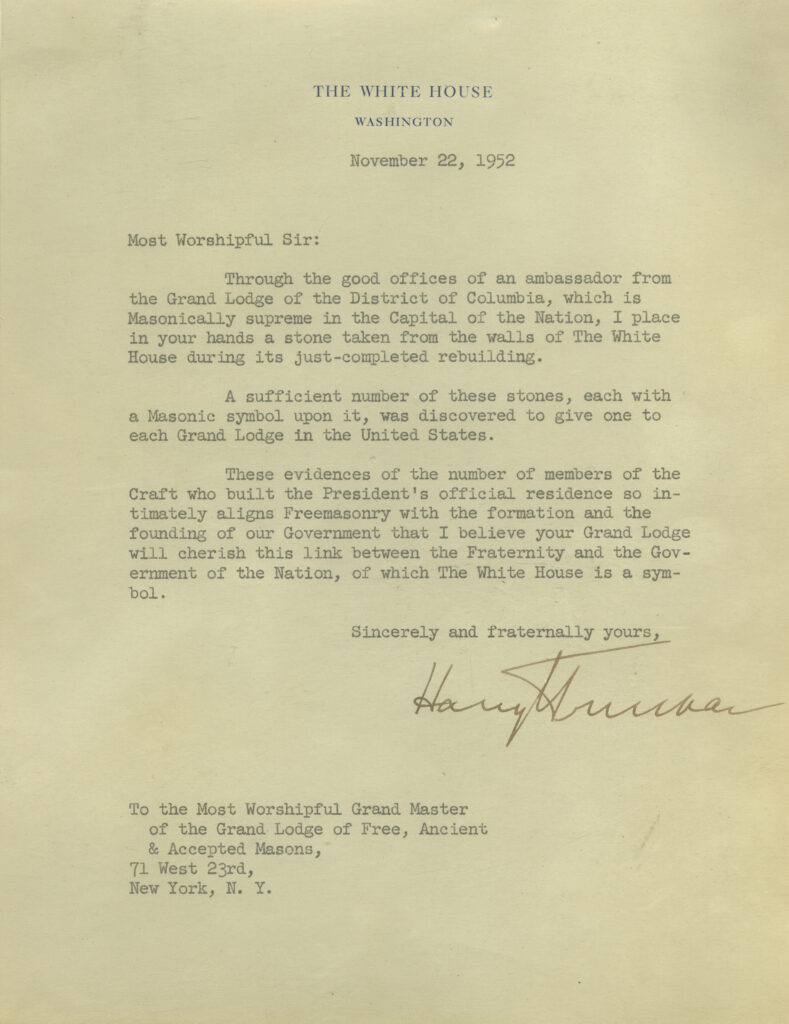 President Harry S. Truman (1945-1953)
President Harry S. Truman had already been a prominent member of the Freemasons prior to his presidency.  During the famous renovation of the White House under his supervision from 1948 to 1952, he and his assistant, General Vaungh, recognized the mason's mark on the stones among the rubble.  He later presented the marked stones to each of the Grand Lodges across the United States.  They were accompanied by this letter.
President Truman was raised in Belton Lodge No. 450 of Missouri and he was the Grand Master of the Grand Lodge of Missouri in 1940, five years before he became President of the United States.