The Egyptian Obelisk, also known as Cleopatra's Needle was built by King Thutmes III. Originally erected in Heliopolis, it was moved to Alexandria in 23BC before being transported to New York City and erected in Central Park. In October 9th, 1880, 141 years ago, nine thousand masons marched the parade to Park and 82nd street, escorted by Edward M.L. Ehlers, the Grand Marshal. Then, the cornerstone was laid by Jesse B. Anthony, the Grand Master, and the Grand Line officers
The Obelisk artifacts in our collection:
A Baton used in cornerstone-laying ceremonies
The obelisk baton was carried by Edward M.L. Ehlers, the Grand Marshal of that day. The baton is sophisticatedly ornate and is decorated with amethyst and ivory handle. Carrying the baton, the Grand Marshal escorted the Grand Lodge parade to the ceremony site.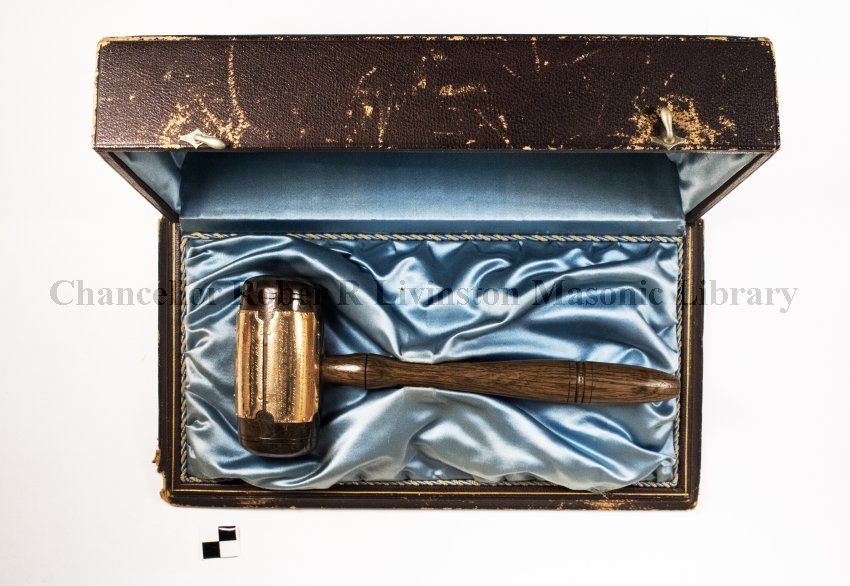 Gavel used in cornerstone-laying ceremonies
A wooden gavel used in the ceremony, as mentioned in the proceedings "The Grand Master then advanced to the stone, spread cement upon it, gave it three blows with the gavel". The gavel was made from the wood from the ship Lawrence of the Battle of Erie, plated with gold-color metal. It had been used in several cornerstone laying ceremonies.
Egyptian Obelisk Commemorative medal
A commemorative medal issued by Grand Lodge of New York.
Reprinted programme of the cornerstone-laying ceremony
Reprinted program issued by Continental Lodge in 1934. The booklet provides all the details of the ceremonies, the officers and the story behind the obelisk.
Paul Orban's painting of the laying cornerstone ceremony
Painting by Paul Orban, depicting the cornerstone-laying ceremony for the Egyptian Obelisk for Masonic Outlook, January 1930 issue cover.