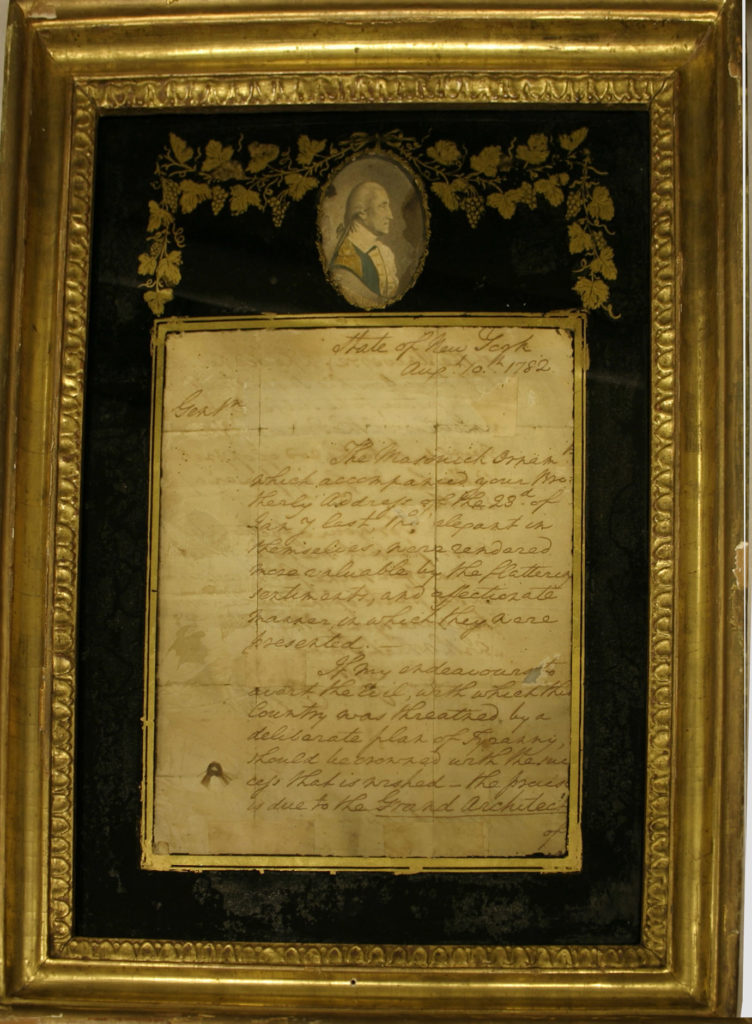 This past week, the Chancellor Robert R Livingston Masonic Library of the Grand Lodge of New York was pleased and proud to mount a temporary exhibit in honor of three separate visitor groups.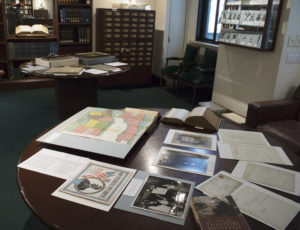 The A.P. American and A.P European History High School classes from John Dewey High School visited, with their teacher Thomas Stoppini. On Tuesday, May 22, 40 students visited, and on Thursday, May 24, 30 students visited.
On Wednesday, May 23, the visitor group was composed of over 30 New York City Librarians from the New York City Department of Education.
All three groups were treated to a special, temporary exhibit which included three main topics on which the A.P. Students had been focused this past year:
Founding Fathers
Theodore Roosevelt
Knights Templar
The table with the Founding Fathers material from the collection held the following amazing artifacts: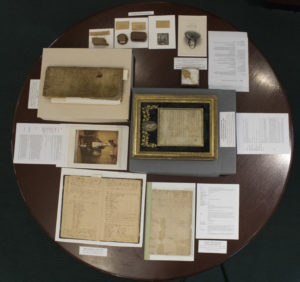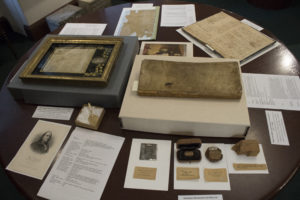 The George Washington Masonic Letter, Portrait and Locket of his hair, 1782
The George Washington-signed muster request letter to Col. Greene, 1780
The American Union Lodge No. 1 Military Lodge Minutes Book, 1776-1779
The Solomon's Lodge No. 1, Poughkeepsie, NY Minutes Book, 1771-1784, with Benedict Arnold visit, Benedict Arnold denouncement, and George Washington Visit
The Benjamin Franklin gold and ivory trowel, late 1700s
George Washington Relics and Steel Plate engraving: a) a piece of wood from his coffin; b) a piece of wood from the elm tree under which he took command of the army; c) a piece of wood from a magnolia he planted at Mount Vernon, and d) a steel plate engraving of his portrait.
A pamphlet with George Washington as a Mason on the cover, and an original engraving of Benjamin Franklin
The Table with the Theodore Roosevelt material held: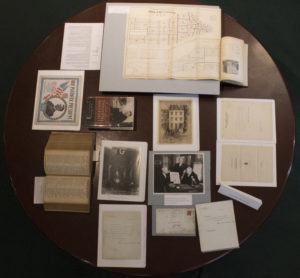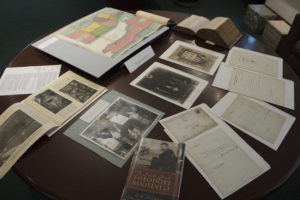 A 1903 letter and envelope (on White House stationary)  from Brother Roosevelt to MW William E. English, Grand Master of Masons in the State of Indiana
A 1904 regrets letter (on White House stationary) from Brother Roosevelt to MW John Stewart, Grand Master 1895-1897, in reference to an invitation by Albion Lodge No. 26
A 1932 letter (on the stationary of the Office of the Governor-General of the Philippine Islands) to MW Charles Johnson, Grand Master 1930-1932, Grand Secretary 1932-1946, about Brother Roosevelt's Inaugural Address, a copy of which he sent to MW Johnson (also on display)
An 1884-1885 Trow's New York Directory showing Brother Roosevelt's NYC residence
Two photographs: one with Brother Roosevelt as a Master Mason, and one in which his membership certificate signed by MW Edward M.L. Ehlers, Grand Secretary 1883-1917 and Honorary Past Grand Master 1901, is being examined by MW Judge Nathan Turk, Past Grand Master 1956-1957
Valentine's Manual of Corporation, City of New York, 1870, showing a map of the then-NYC Police precincts
An engraving by J. Conacher of the 28 East 20th Street NYC building in which Theodore Roosevelt was born
A biography of Theodore Roosevelt
A booklet titled,  Our Patriotic President
The Knights Templar table held: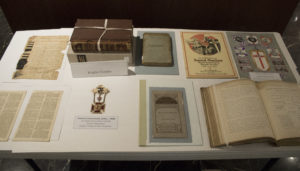 The Knights Templar Certificate of Andrew Robbs, from Lodge No. 753, Rooskey, Ireland 1806, signed by William Gamble as Secretary
Pages from a 1753 pamphlet about the Orders of Knighthood
A Grand Commander Jewel, 1898, Sir Knight Henry Brewer Quinby, Grand Commander of the Knights Templar of New Hampshire
A book documenting Boston Commandery's California Pilgrimage of 1883 to the 22nd Triennial Conclave
Four rare books from the Collection related to the Knights Templar
Two Grand Encampment commemorative pamphlets
Also on exhibit was the Certificate signed by Paul Revere, 1782: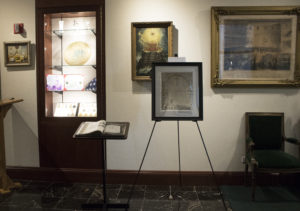 As an interesting associated item, there was also the Marquis de Lafayette Apron, 1820s, and a newspaper article showing the dinner seating for the 1824 dinner which the Grand Lodge of New York gave to honor the Marquis de Lafayette.
Additionally, on display was an 1801 letter written by MW Robert R Livingston, Grand  Master 1784-1800, after whom the Library is named, as well as an original engraving of him: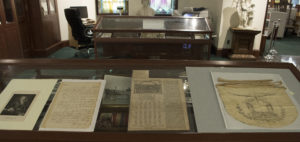 The Library is thrilled to share the collections with the membership, and with the general public, in furtherance of our Mission.
Please don't hesitate to contact us if your Lodge, District, Association, class or group (Masonic or non-Masonic) would like to have a similar temporary exhibit mounted for a special visit or event. Please give us at least one month advance notice to design the exhibit.
Photographs by:
Mr. Joseph Patzner, Librarian pro tem  – (Overhead images of the tables)
Ms. Catherine Walter, Curator – (GW letter)
Ms. Ratirat Osiri, Assistant Curator – (All other images)