By Debra Grech
For the spring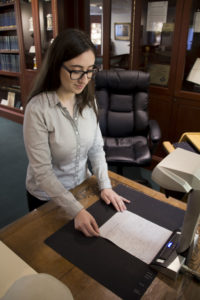 semester, I was given the opportunity to intern at the archives of the Chancellor Robert R. Livingston Masonic Library as part of my coursework towards a Masters in Library and Information Science, with certification in Archival and Cultural Heritage Preservation from Queens College. This was my first internship experience since entering this masters program and my time here has been invaluable.
As an intern, I was given the chance to apply theoretical knowledge gained in the classroom to practical and hands-on experience in a professional setting. My tasks included rehousing and inventorying pre-1900s individual lodge papers from Series 2 that were originally housed in bound volumes and placing them into acid-free boxes and folders. The papers were placed in the folders based on their content and metadata was added in order for the papers to be easily accessed for future researchers. Previous inventories did not contain date range and lodge location categories, however, my supervisor and I decided that was important information that could be added to further increase accessibility. Additionally, I worked on a digitization project where I scanned previously filed and inventoried lodge papers from Series 2 in an effort to preserve the originals in digital form in case the physical copy gets damaged. These papers were created by numerous Freemason lodges in New York State and range from lodge creation materials such as petitions and warrants to elections of new officers.
I am very thankful for the opportunity given to me to intern at the Chancellor Robert R. Livingston Masonic Library. During my time at this institution, I learned about notions of privacy that are specific to this archive. My knowledge of Freemasonry has also expanded by working with various types of Masonic materials as well as a highly knowledgeable staff that was always there to answer any of my questions.