Warning
: CoBlocks::{closure}(): Argument #1 ($post) must be passed by reference, value given in
/mnt/data/vhosts/casite-570347.cloudaccess.net/httpdocs/wp-includes/class-wp-hook.php
on line
312

Virtual Lecture: A New Perspective on The Morgan Affair
February 24, 2022 @ 7:00 pm

-

8:00 pm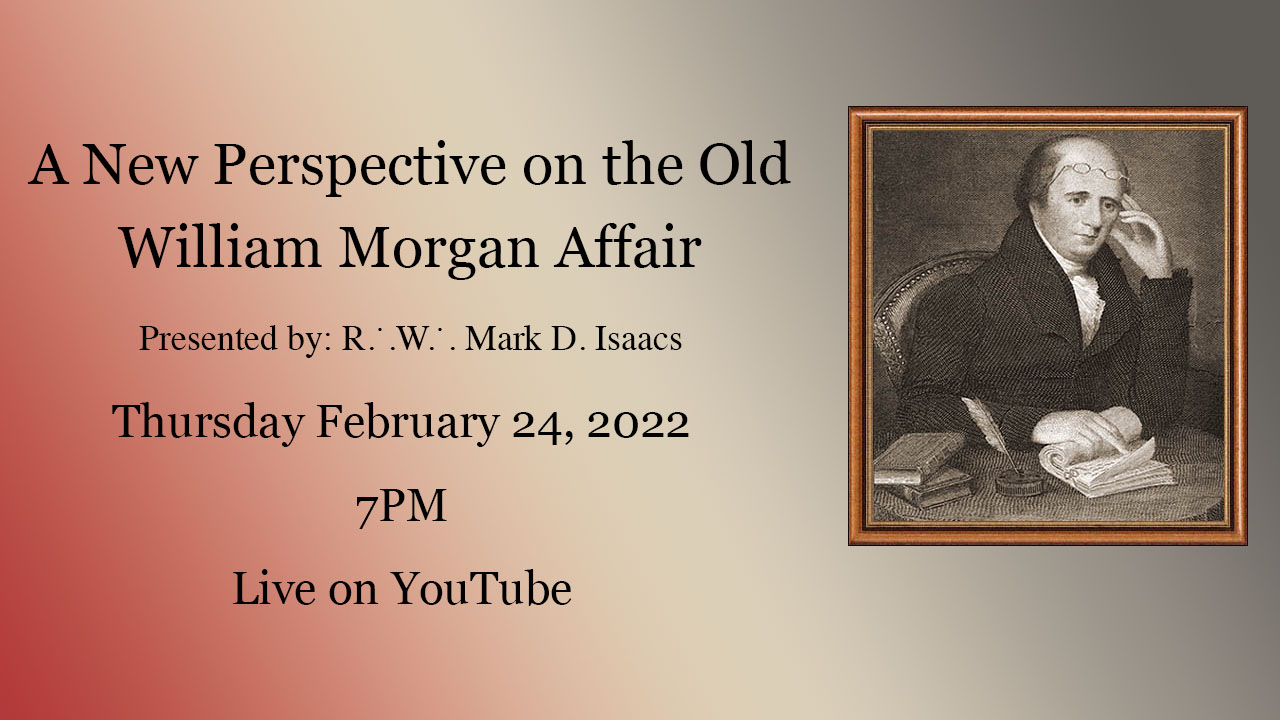 Lecture Synopsis:
Typically, Books and lectures about the Morgan Affair dwell on the mystery of the disappearance of William Morgan (born 1774 – disappeared c. 1826). And, as a "who done it," there are essentially two camps.
Masonic authors tend to argue that the Craft is wholly innocent of any nefarious involvement with Morgan's disappearance. They argue that William Morgan was a ne'er-do-well who frequented grog shops and abandon his poor young wife and fled New York and the United States to evade creditors.

"Anti-Masons," accuse the Craft of kidnapping and murder of an innocent and noble truth-seeker. To Antimasons, "Captain" William Morgan was a scholar and a Christian martyr slain for attempting to expose the many unspeakable evils of Freemasonry. Obviously, the murder and coverup was "a vast Masonic Conspiracy." The Craft itself was collectively guilty.
The key to The Morgan Affair, which nearly destroyed Masonry in New York and New England, is not merely a Law and Order-style "who done it." The key is the bitter political rivalry between Jeffersonian-Jacksonian and Hamiltonian-Whig factions during the antebellum period of American history (1800-1860).
Lecturer Bio:
M.·.W .·.Rev. Dr. Mark D. Isaacs is an active Lutheran clergyman, scholar, retired adjunct college and seminary professor. Isaacs was made a mason in Elm-Belcher Lodge, A.F.&.A.M, Agawam, MA on January 23, 1984, and is currently a member and Master of Ulster Lodge No. 193 (Saugerties, NY). In addition to his blue lodge membership, he is also an active member of Poughkeepsie Chapter No. 172(R.A.M.) and King Solomon Council No. 31, Saugerties, N.Y.; Poughkeepsie Commandery, No. 43.; The Valley of the Hudson, A.A.S.R, N.M.J.; Tri-Po-Bed Grotto; Cyprus Shrine; Charles H. Copestake A.M.D. Council; Red Cross of Constantine [Albany Conclave]; The Royal Order of Scotland. He is a member of The Philalethes Society; and The Scottish Rite Research Society.
The views expressed are personal opinions of the speaker and do not necessarily reflect the views and/or opinions of the Grand Lodge of Free and Accepted Masons in the State of New York or the Chancellor Robert R Livingston Library of the Grand Lodge of the State of New York.