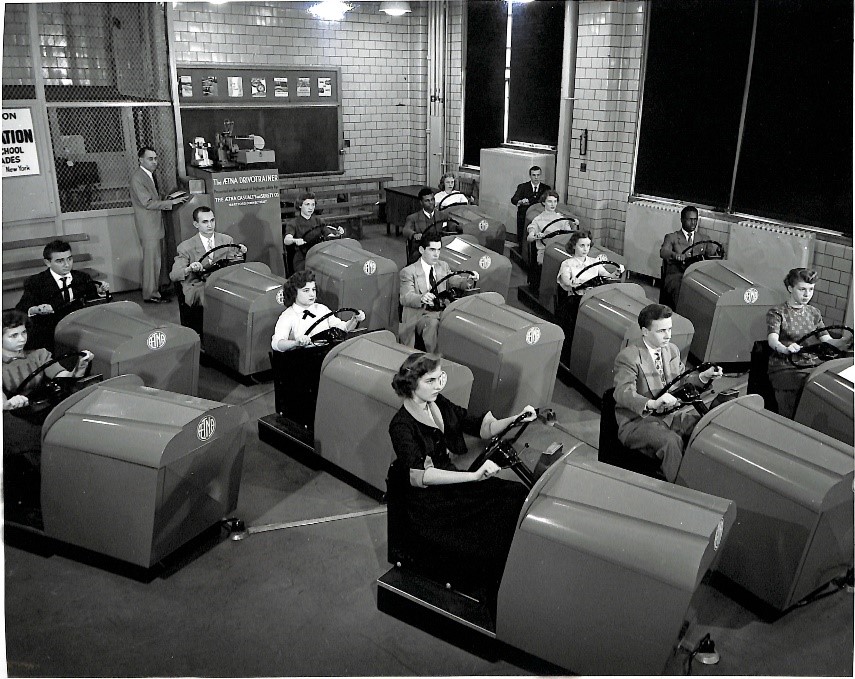 By Joseph Patzner
Whilst researching for a future library project, our Associate Librarian Jo-Ann Wong found and shared a folder containing a press release that detailed the introduction of the ÆtnaDriveotrainer "behind-the-wheel" Driving Lesson Program into the New York City education system.  The program was introduced, as the schools were finding the current driving education system to not be as financially sensible. Hence, they attempted this transition towards a portable Drivotrainer system. While the students look somewhat ridiculous seated in a classroom full of motionless cars that resemble bumper cars, one of the main goals of the program was to provide teenagers with the opportunity to acquire invaluable driving skills without the risk of injury or driving accidents. At the moment, while this material was found in our stacks, it is unclear whether or not the Masons were a major proponent in getting these programs into the school. However, the Masons are well-known for being a large supporter for the education of the youth of society.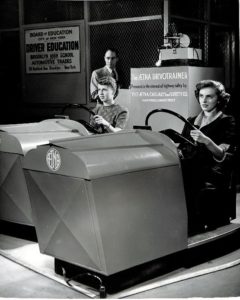 While much of modern driving education occurs through on-the-road training, during the 1950s Ætna developed the Driovotrainer "behind" the wheel training course as a way to pioneer a safer and effective method for teaching driving skills. The system that is reflected in these photographs were loaned to the Brooklyn High School of Automotive Trades on Bedford Avenue in Brooklyn. The system consisted of 15 Ætnacars, with the controls of a standard automobile including pedals, a shift knob, speedometer, turn signals and a high-low beam switch, as well as a set of twenty-two films to be projected at the front of the classroom that simulate various driving situations for which the students "drive" in. As the student are "driving," each student's progress is recorded and printed in the rear of the classroom as to allow the instructor to track student progress and correct driving errors as they occur. It is to no surprise that the final film is a twenty-five-minute road test, to test whether or not the students are able to apply the skills gained from the first twenty-one films.  Upon successful completion of the three-hour training course, the students would receive a discounted rate from insurance providers.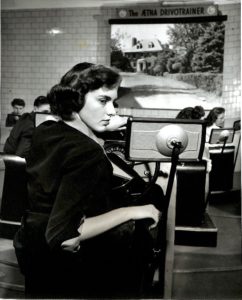 These driving simulators were produced throughout the 1970s, before returning to the way they had been prior to the Driveotrainer. Although Ætna is no longer around, the concept of driving simulators still exists as a way to not only teach individuals how to drive, but as an aid in understanding driving habits.
The film "Teach Them Now," produced by the Ætna insurance company, explains why the company developed the training system and can be viewed below courtesy of the National Archives.