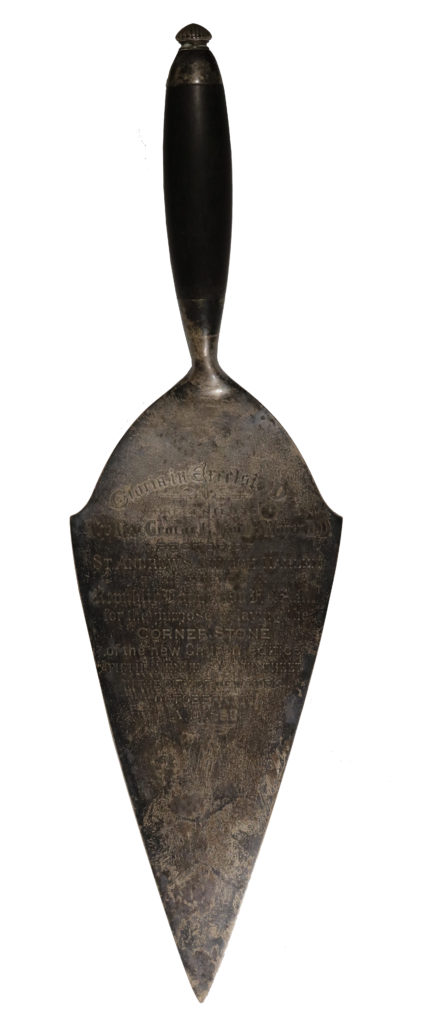 by Ratirat Osiri, Museum Technician
Today's highlighted artifact is one of the biggest and the oldest trowels in our collection, used in laying the cornerstone of St. Andrew's Episcopal Church in Harlem on this day 129 years ago, October 16th, 1889.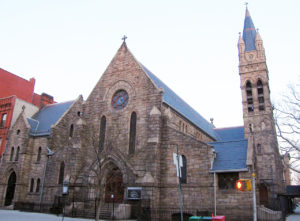 It was made out of sterling silver with an ebony handle by the famous Tiffany & Co. The detailed inscription records that the trowel was a gift from Republic Lodge No. 690 to the Rector, George R. Van De Water, and that the Church is located between 127th Street and Fifth Avenue.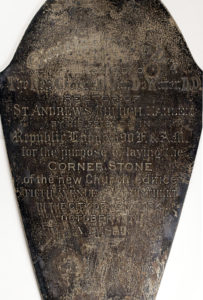 The ceremony and the trowel were also mentioned in the following day's New-York Tribune newspaper:
The cornerstone of the new St. Andrew Protestant Episcopal Church. Fifth-ave. and One-hundred-and-twenty-seventh-st., was laid yesterday with impressive ceremonies. The trowel used by Bishop Potter for putting the stone in place was a solid silver one present to the Rev. Dr. Van de Water, rector of St. Andrew's, by the Republican Lodge, F. and A.M….Under the cornerstone were placed the two other [corner]stones …1
It is evident that the newspaper reporter mistakenly identified the Lodge as Republican rather than Republic Lodge. Republic Lodge No. 690 was warranted in 1869 and was working up until 1980, at which time it consolidated with Bunting-Charity Lodge No. 727, which is still in existence today.
The same report also revealed that the cornerstone was actually the third cornerstone of St. Andrew's Church, the first church having been built in 1829 and the second one in 1872 after the first church was burned. The church then relocated to the present location and held the above-described cornerstone-laying ceremony. According to the church's history, it is the first Episcopal church in East Harlem. 2-5
The important name appearing on the trowel and in the newspaper is George R. Van De Water, the Rector of St. Andrew Church at that time. The Grand Lodge of New York published a sermon of his to be distributed among the Lodges in 1908.6 He was later appointed as the Grand Chaplain of the Grand Lodge of the State of New York from 1910 to 19177 and delivered several sermons to the Masons during his term of service as Grand Chaplain.8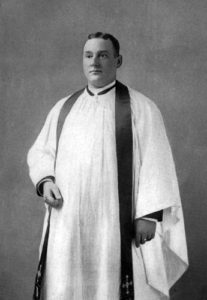 From the day the cornerstone was laid, St. Andrew's Episcopal Church has been offering services to their patrons and to the Harlem community through generations. We are proud to have in our care this artifact which reflects both the history of New York City and New York Freemasons .
References:
1.  New-York Tribune. (New York [N.Y.]), 17 Oct. 1889. Chronicling America: Historic American Newspapers. Lib. of Congress. 
2. George Roe Van De Water, Project Canterbury 
3. Jacot, Mary A. "The Story of the Twenty-Five Years' Rectorship of George R. Van De Water, (1913)." Transcribed by Wayne Kempton, Project Canterbury, 2013
4 "Memorial Minute Drafted by the Committee Appointed by Bishop Manning for the Memorial Service of the Rev. George Roe Van De Water Held at the Cathedral of St. John the Divine March 18, 1925." Transcribed by Wayne Kempton, Project Canterbury, 2012,
5. St. Andrew's Episcopal Church, Harlem
6. Van de Water, George, Sermon and Address published by order of the Grand Lodge of New York of Free and Accepted Masons of the State of New York For Distribution Among the Lodges, 1908
7. Proceedings of the Grand Lodge of the State of New York, 1910 -1917
8. Van de Water, George, A Collection of Sermons, 1908-1914: Masonic Teaching, Bible Truth (1908), The Truth about Freemasonry (1911), The Plumb Line (1912), A Man and a Mason (1913), The Latent Power of Masonry (1914), Masonry and War (1916), Grand Lodge, New York, 1908-1914
Photo Credits:
 Featured Cover Image and Artifact detail: Artifact photo: Ratirat Osiri, Museum Technician
St. Andrew's Episcopal Church, courtesy of Wikipedia user Americasroof
George R. Van De Water, courtesy of Project Canterbury