Virtual Lecture: Karen Quinones, "Theodosia Burr: Teen Eyewitness to the Founding of the New Nation"
May 27, 2021 @ 7:00 pm

-

8:00 pm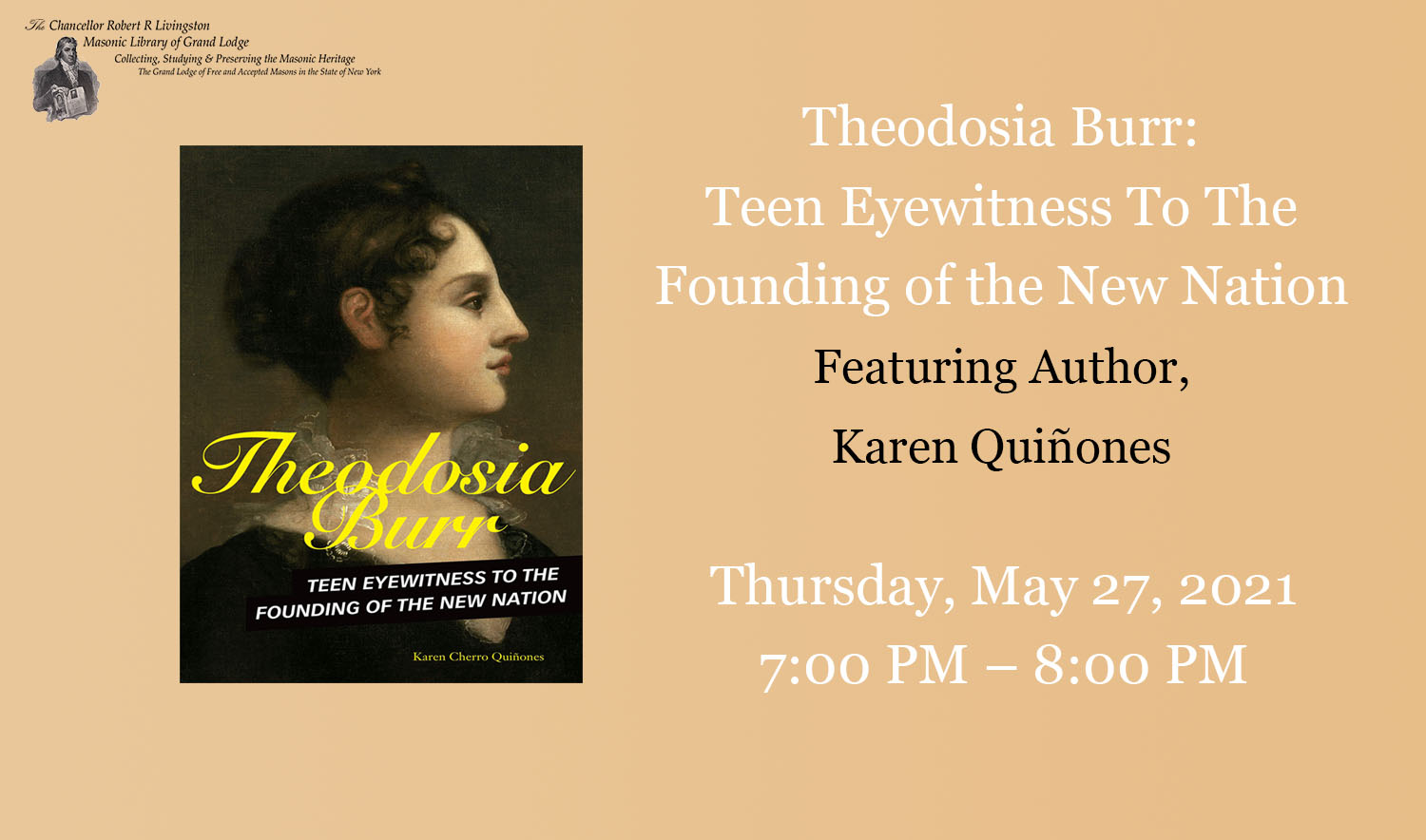 About the lecture:
Most Americans are familiar with the political life of Aaron Burr. He was an officer in the Continental Army, New York State Attorney General, member of the New York Assembly, Senator, and Vice President, all by the time he was forty-five. In 1804 he killed Alexander Hamilton in a duel, and in 1807 he was tried for treason and found not guilty. Less well known is his private life. Burr was one of the few men of his time who enjoyed the companionship of intellectual women. He described his wife, Theodosia Prevost Burr, as his intellectual equal and moral superior. (Quite a compliment for a man of Burr's academic abilities.) Burr's ideas about education for women were radical; he believed women were equally capable as men. His daughter, Theodosia, was schooled in the same manner as a boy of her time and was the first woman to achieve a Princeton-level education. We will discuss Aaron Burr's personal life and his radical, for the late 18th century, ideas about women and education.
Speaker Bio:
Karen is the author of "Theodosia Burr: Teen Eyewitness to the Founding of the New Nation," a critically acclaimed Young Adult biography of Aaron Burr's daughter. She is a historian of New York City during the Colonial and Founding Eras and owner of Patriot Tours NYC. Since 2005, Karen has conducted tours of Lower Manhattan, teaching about the city's early history. She has appeared on dozens of episodes of Travel Channel's Mysteries at the Museum. Karen is also a historical reenactor and participates in local events.
Watch Live on YouTube!