Warning
: CoBlocks::{closure}(): Argument #1 ($post) must be passed by reference, value given in
/mnt/data/vhosts/casite-570347.cloudaccess.net/httpdocs/wp-includes/class-wp-hook.php
on line
312

Virtual Lecture: William Wines Phelps: New York Mason, anti-Mason and Mormon
October 29, 2020 @ 7:00 pm

-

8:00 pm

Free
Join us virtually on Thursday, October 29th for a lecture presented by Author Michael W. Homer, exploring the life of William Wine Phelps a Mason who would later condemn Freemasonry and become one of the predominant voices in the 19th century anti-masonic movement.
William Wines Phelps joined Freemasonry in the early 1820s in Homer, New York (Homer Lodge No. 137), where he was the editor of the Western Courier. But after the newspaper folded he was approached by Richard M. Bloomer in 1827 to establish an anti-Masonic newspaper in Trumansburg, New York. Phelps accepted Bloomer's offer, began publishing The Lake Light, renounced Freemasonry, and in 1828 participated in one of the first anti-Masonic conventions in LeRoy, New York. Shortly after he and Bloomer decided to establish another anti-Masonic newspaper in Canandaigua and Phelps began editing the Ontario Phoenix in March 1828. Phelps attended the most important anti-Masonic convention in LeRoy where he became one of the most prominent anti-Masonic editors in New York. In 1830, after Phelps had a falling out with anti-Masons in New York, he met Joseph Smith in Palmyra, New York. He converted to Mormonism, moved to Jackson County, Missouri, and became the editor of The Evening and Morning Star, the first Mormon newspaper.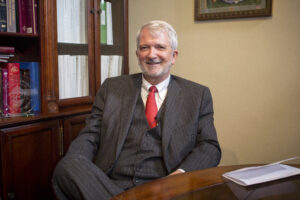 About the lecturer:
Michael W. Homer is a trial lawyer who practices in state and federal courts and is the Honorary Italian Consul of Utah (2007- Present). He is Chair of the Marriott Library Board, University of Utah, 2015 – Present; member of Board of Advisors, Office of Undergraduate Advancement, University of Utah, 2005-Present; and member, Board of Directors, The Leonardo, 2013 – Present. He has served on the Board of State History, 1997-2015, Chairman, 2003 – 2015; Board of Trustees, Economic Development Corporation of Utah, 2006-2010; and Board of Trustees, Utah Opera Company, 1989-1998.
He has written several articles and books about the connections between Masonry and Mormonism: "Masonry and Mormonism in Utah, 1850-1984," Journal of Mormon History 18:2 (Fall 1992), 57-96; "' Similarity of Priesthood in Masonry': The Relationship between Freemasonry and Mormonism," Dialogue, A Journal of Mormon Thought 27:3 (Fall 1994), 1-113; and Joseph's Temples: The Dynamic Relationship between Freemasonry and Mormonism (Salt Lake City: University of Utah Press, 2014).
RSVP through Eventbrite
This will be a live online event, via Zoom, and attendees will receive an email with the Zoom link prior to the event. For those unable to join us for the session, the lecture will be recorded and made available on the Robert R Livingston Masonic Library YouTube channel.