Warning
: CoBlocks::{closure}(): Argument #1 ($post) must be passed by reference, value given in
/mnt/data/vhosts/casite-570347.cloudaccess.net/httpdocs/wp-includes/class-wp-hook.php
on line
312

Livingston Library Lecture: The Return of the S.S. Kossuth's Christening Bottle
August 31, 2017 @ 6:30 pm

-

8:00 pm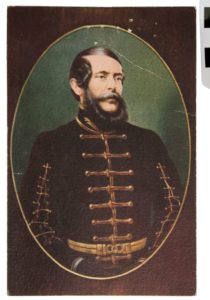 Catherine M. Walter, Curator of the Livingston Masonic Library, will present a lecture on Thursday August 31 at 6:30PM focused on the artifacts in the collection which relate to Brother Lajos Kossuth, a Hungarian freedom fighter and Freemason who has been called "Hungary's Washington". The artifacts include those involved with the S.S. Kossuth, a Merchant Marine Ship built with 4 million dollars of War Bonds raised by a New York State Freemason, RW Morris Cukor, and feature a letter in Kossuth's own hand, written while in prison in Turkey.
She will describe the curatorial process of discovery with the largely unknown collection of the Livingston Masonic Library, and will trace how she regained the Christening Bottle of the SS Kossuth, held by the Lasdon Park Veterans Museum in a long-forgotten loan.
Ms. Walter has been with the Grand Lodge of New York since 2003 and is responsible for the re-housing, cataloguing and researching the 50,000-piece artifact collection. She has designed and installed over 90 exhibits for the 39 exhibit cases found throughout Grand Lodge. She also created the Library's Virtual Museum, which holds over 700 artifacts and biographies. Since 2010, her work also includes the copy-editing and production of eleven Grand Lodge Proceedings books.
Her earlier work with museum collections was at the American Museum of Natural History, with the African, Great Basin and Great Plains Ethnographic Storerooms. When she started here at the Library, she had worked with over 80,000 artifacts.
She holds a B.A. in Anthropology from SUNY Geneseo, with study at CUNY Lehman and at the Université Paul Valery in Montpellier, France. She has worked on archaeological digs in Westchester and in Nevada, and has made a photographic survey of 25 Mayan archaeological sites during a solo-voyage through the Yucatan. She is an author of poetry, short stories and has completed her first novel.
Please RSVP at info@nymasoniclibrary.org
Photo ID is required to enter the building
White wine will be served.